Wir freuten uns heute auf eine große Kunst-Literatur-Veranstaltung anlässlich des 50. Geburtstages der Städtepartnerschaft zwischen Leeds und Dortmund im Literaturhaus Dortmund. Wir freuten uns auf unsere Gäste aus Leeds und die Ergebnisse aus dem Kulturaustausch zwischen Leeds und Dortmund. Wir freuten uns auf ein fröhliches gemeinsames Fest, aber leider ist das wegen des Corona-Virus nicht möglich. Durch die digitale Vernetzung haben wir nun doch die Möglichkeit, gemeinsam unsere schöne Zusammenarbeit sowie wundervolle Freundschaft hier im Internet zu feiern. Viel Spaß!
Auf ein baldiges Wiedersehen!
Auf die nächsten 50 Jahre!

LD50, oder Leeds/Dortmund 50, war ein Festival, das der Schriftsteller Peter Spafford für Leeds 2023 anlässlich des 50. Jahrestags der Städtepartnerschaft der beiden Städte organisiert hat: LD50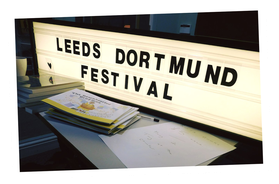 Das Festival bestand aus 25 Kunstveranstaltungen - Dichterlesungen, Musikveranstaltungen, Diskussionen - die meisten davon wurden vom Chapel FM Arts Centre übertragen. Sie können sich alle Programme hier anhören.
LD50 entstand aus "Writers in Transit", einem Gedichtaustausch zwischen dem in Leeds lebenden Peter Spafford und dem Dortmunder Dichter Ralf Thenior, aus dem das gemeinsam geschriebene Buch "Road Markings/Reise-Gedanken" hervorging.
Im Rahmen von LD50 gründete Peter Spafford 11 Partnerschaften zwischen Schriftstellern in unseren beiden Städten sowie 11 Übersetzer, woraus zwei Radiosendungen hervorgingen. Sie können hier zuhören: https://www.chapelfm.co.uk/elfm-player/archive/2019/09/write-across-borders-part-1/
In Leeds sind wir sehr gespannt auf die Publikation 'Nachbarschaft' und danken allen unseren Freunden in Dortmund, die sie produziert haben. Eines Tages werden wir sie wieder gemeinsam im selben Raum herausbringen!
Alle Texte, die von den Autoren der "Write Across Borders"-Partnerschaften produziert wurden, können hier nachgelesen werden. 
Kürzlich haben anlässlich der Feierlichkeiten zu Dortmund-Leeds 50 eine Reihe von Schriftstellern aus Leeds Grußbotschaften nach Dortmund geschickt. Herzlichen Glückwunsch zu Dortmund-Leeds 50! Möge unsere Zusammenarbeit auch in Zukunft weitergehen und gedeihen! 

Neben den persönlichen Begegnungen der beiden Dichter Spafford und Thenior in Leeds und Dortmund bestand die Aufgabe darin, über die Stadt des anderen zu schreiben. 
Auf beiden Seiten entstanden Texte, in denen die eigene Stadt mit den Augen des Gastes gesehen wurde. Was zu einer Bereicherung und einem erweiterten Verständnis für den eigenen Lebensraum führte. 
Da diese Sichtweise der Städte Leeds und Dortmund mit den Titeln "Footfreedom" (Spafford) und "ElectricityBurger" (Thenior) auch für andere Liebhaber dieser beiden lebendigen Städte interessant sein könnte, entstand die Idee, ein zweisprachiges Buch daraus zu machen. Auf diese Weise kam, mit Hilfe des Dortmunder Kulturbüros, das Buch "Road Markings / Reisegedanken" in die Welt. Der Dank der beiden Dichter gilt Klauspeter Sachau, durch dessen elegante Gestaltung das Buch zu einem Augenschmaus wurde.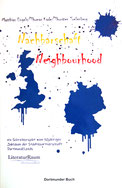 Und weitere Ergebnissse zeitigte dieser von Peter Spafford angeregte Austausch. Unter anderem ein zweisprachiger Gedichtband mit Gedichten von Poetinnen und Poeten aus Leeds und Dortmund.
Today we were looking forward to a great art-literature event at the Literaturhaus Dortmund on the occasion of the 50th anniversary of the town twinning between Leeds and Dortmund. We looked forward to our guests from Leeds and the results of the cultural exchange between Leeds and Dortmund. We were looking forward to a cheerful celebration together, but unfortunately this was not possible due to the corona virus. Thanks to digital networking we now have the opportunity to celebrate together our beautiful cooperation and wonderful friendship here on the internet. Have fun!
See you soon!
To the next 50 years!

LD50, or Leeds/Dortmund 50, was a festival organised by writer Peter Spafford for Leeds 2023 to mark the 50th anniversary of the twinning of the two cities: LD50
The festival consisted of 25 arts events – poetry readings, music events, discussions – most of them broadcast from Chapel FM Arts Centre. You can listen to all the programmes here. 
LD50 grew from Writers in Transit, a poetry exchange between Leeds-based Peter Spafford and Dortmund poet Ralf Thenior, which resulted in a co-written book, Road Markings/Reise-Gedanken.
As part of LD50, Peter Spafford set up 11 partnerships between writers in our two cities, along with 11 translators, which resulted in two radio programmes. You can listen here.
In Leeds we are very excited about the publication 'Nachbarschaft' and thank all our friends in Dortmund who produced it. One day we will launch it again together in the same room!
All the writing produced by writers in the Write Across Borders partnerships can be read here: https://www.leedsdortmund50.com/the-work/
Recently, to mark the Dortmund-Leeds 50 celebrations, a range of Leeds writers have sent messages of greeting to Dortmund. Happy Dortmund-Leeds 50! May our collaborations continue and flourish into the future!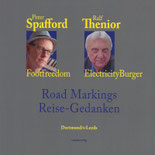 Besides the personal encounters of the two poets Spafford and Thenior in Leeds and Dortmund, the task was to write about each other's city. 
Texts were written on both sides, in which the other's own city was seen through the eyes of the guest. This led to an enrichment and an extended understanding of their own living space. 
 This led to an enrichment and an extended understanding of their own living space. Since this view of the cities of Leeds and Dortmund with the titles "Footfreedom" (Spafford) and "ElectricityBurger" (Thenior) could also be interesting for other enthusiasts of these two lively cities, the idea was born to make a bilingual book out of it. In this way, with the help of the Dortmund cultural office (Kulturbüro Dortmund), the book "Road Markings / Reisegedanken" (Road Markings / Travel Thoughts) was born. The two poets are grateful to Klauspeter Sachau, whose elegant design made the book a feast for the eyes.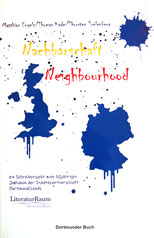 And further results were produced by this exchange initiated by Peter Spafford. Among other things, a bilingual book of poems by poets from Leeds and Dortmund.

Silvia Liebig, artist in residence has been at Artist House 45 in Beeston, Leeds from September to November 2019 to develope her "Being Beeston Projekt.
Artist House 45 is a back to back terrace house in Beeston exploring the impact of long term artist residencies. 
Artists are invited to spend time with the house, stay a while, get to know its immediate location and neighbours and make work in response. What they produce might be something subtle, something remote or something unmissable.



Artist's House 45 has seen a number of artists pass through it over the years; some of you may remember the monthly 'Trajectory of the Everyday' column by Lloyd and Wilson from the pages of South Leeds Life. Over time, the artists that have engaged with the house and its concept, as a space in which they can both live and work, have found different ways in which to engage with the various communities within South Leeds.
The most recent incumbent has been Silvia Liebig, an artist from Dortmund, Germany. As with all of the occupants of the house Silvia has been seeking to make contact with different communities that exist within the Hunslet, Beeston and Holbeck area of South Leeds. Although now back home in Germany after a two-month residency here, I interviewed Silvia about her time spent at Artist House 45 and her project as it related to the communities within which she had been working:
BD: So, how did you enjoy your time in South Leeds, what stands out in particular for you about your time spent here?
SL: In fact? I suffer a bit of homesickness about Leeds, and Beeston in particular. Yesterday I went to an opening at the "Kunstverein" (art Association) in Dortmund and there was an artist whose particular accent I immediately identified as something familiar – it turned out, that he originally came from this region in England. I was literally hanging on every one of his words.
I got to know the kindness of the people in this area. I really loved the fact, that people say "Goodbye and Thank you" to the bus driver when leaving the bus. I was dismayed to see that the microplastic production in this area is enormous (objects that become litter and over time are broken up again and again until they are just tiny shards of plastic) because the adolescents do not know how to channel their quite understandable aggressions into productive channels.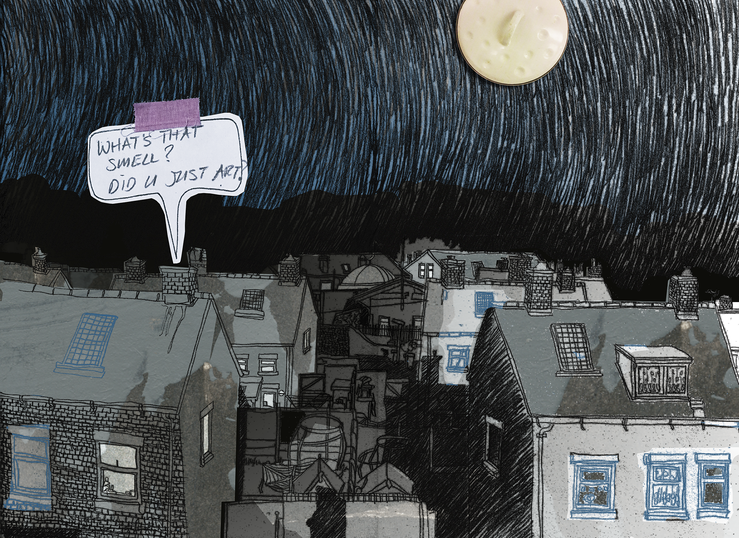 (BD: There is a thing called broken glass syndrome which says that if someone smashes something like a window or phone box in the street and it does not get repaired reasonable quickly, then quite often other street furniture nearby ends up being similarly damaged because of what is felt to be a lack of care and attention to the environment.)
I experienced the different sorts of beer and the rich choice of different kinds of food, for example polish Royal Cheesecake and a Vietnamese burger called Bao. I was encouraged to create a lot of strange ideas because of not knowing what they were for instance the "Mira Sport" (hot water boiler) in my bathroom.
At the beginning, as a person coming from abroad, there was a certain distance between myself and the new environment based on the different languages and everyday rituals, the detachment from social networks and geographical orientation. That sharpens the senses There was also a lot of things that I recognised, and there is something funny about that; it doesn't matter if things are good or bad – these peculiarities helped me develop an emotional bond with the environment.
BD: Well I know where the Polish cheesecake came from but the Vietnamese Burger! Where did you get that from?
SL: A friend brought it from the Kirkgate Market – there is a vietnamese Imbiss (BD: snack bar) in the corner of this place, where you can sit and eat. I adore every single one of its dishes. But Bruce, did you ever taste "Koreczki sledziowe z czosnkiem" (fine sour pickled herring with garlic) from the big polish supermarket "Syrenka" at upper part of Dewsbury Road – amazing! Or do you know "Momordica charantia" – you call it "Native bitter gourd" I think. It is a slightly bitter vegetable you can prepare it very delicious. You can get it at the "Abu Bakr" Market.
BD: I feel ashamed to admit to not having tried any of those things despite having lived in this area. My taste is quite diverse, but this shows me as quite stuck in my ways. I shall make it my goal to try these things by the time we next meet. In terms of your hometown of Dortmund, which I have never been to, and South Leeds would you say there are any things in particular that connect the two regions in terms of the environment, economy, community?
SL: Well, for example, the somewhat rough but straightforward way of dealing with each other, if you're not at your job, and also a kind of instinctive mistrust in authorities because one has experienced ignorance -or worse- a top down attitude. A lot of people in Dortmund (which is part of the Ruhr Valley) or their ancestors (coming from Poland, Italy, Turkey …) worked as coalminers or steelworkers (similar to this area). They are proud, they don't want to have charity, they want to have opportunities, chances, aims. They want to sit at the same table and be involved in the process of developing ideas about changing their situation.
Dealing with art is not necessarily natural but I made the experience, talking about the process of how an idea or a piece of art develops to create and assist communication – the first step to becoming interested. Often the problems that have to be solved are the same no matter whether they have to do with an art project or everyday life.
And the beer of course! It is like an artist friend of mine (Sabine Held) said: "Beer is some kind of cultural glue". Come over to Dortmund, Bruce and have some pints with me!
But Leeds is far more beautiful than Dortmund because it has these great Victorian buildings. But here it rains lots more …
BD: So, in terms of Artistic practice, you have spent a lot of time putting pen to paper in the form of drawings and portraits in particular? Do you want to talk about some of the places and people that you have met in the area that have made their way into these drawings?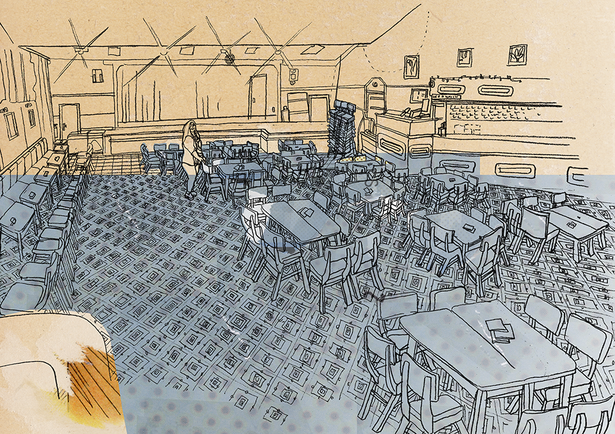 SL: It hasn't only been a thing of pen and paper but also of sound, because I did a lot of interviews too.  For me it is like a rush to get to know the world through another person's "filter" (including his/her reception, memory, experience, senses and cultural background). To get an idea of how other people "work". How they explain the world and organize it for themselves. But you have to have time for that and the will to listen.
You know, that is the wonderful thing about artist residencies (like the one East Street Arts offered to me). They buy you time to work carefully and patiently on an idea, that allows you to do experiments or to make mistakes (you learn a lot from mistakes, sometimes they are the starting point of a better idea or technique or procedure).
So, at the very beginning I was just strolling around, chatting about things with people I met by chance, for example in the bakery, the supermarket, on the bus or in the park.
One day I met Mickey Mouse (not their real name, because I offered everybody the chance to remain anonymous) in the Laundrette. He explained the manual of the washing machine to me, we talked about jobs, while drying we started talking about past and future and "what holds the world together inside it" And after several visits MM allowed me to transform him into a character for my project.
The same happened with some people at the Roland Road Working Men's Club. They taught me how to play bingo and told me a lot about the history of the working men club.
And then at some point -I am sure you know this by your own working experience- suddenly everything is connected and becomes more than the sum of its parts, and then you know what you have to work out. In my case it will be a so called "comictravelguideinterviewpaintbook".
BD: Now that you are back in Dortmund, how do you view the time that you spent in Leeds and do you see yourself returning to the area of South Leeds should the opportunity arise? Will the "comictravelguideinterviewpaintbook" potentially be a part of being able to do that?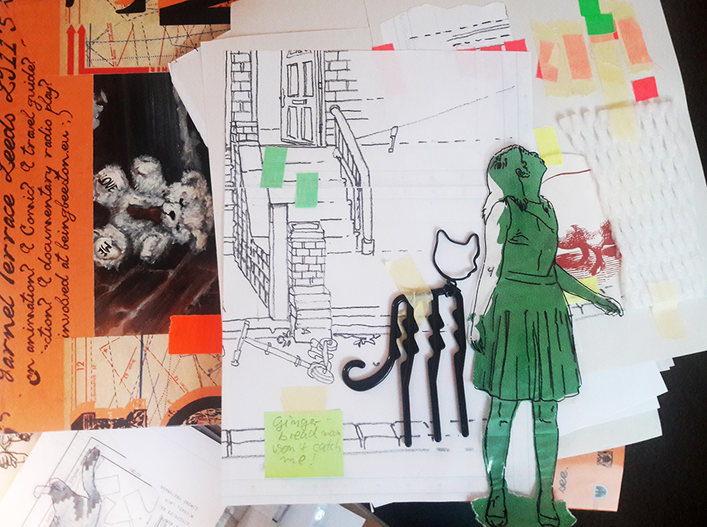 SL: I would love to, because all these drawings, the interviews and sounds, the gourmet discoveries, the artist challenges, the map, the philosophical excursions – all of the materials that have been collected or developed with the help of the communities around Beeston, Holbeck and the city of Leeds have to become more than a collection of loose papers.
I am thinking about creating a book out of it, but to do this it needs a bit of a distance and another intense working period. It would be amazing to see, how this "Book" could become a starting point for artists or other creative people; and there are still so many paths to follow … so keep your fingers cross and let's see!
Bruce, what about the "SpecialRubbishSuperHeroPower" Characters you are going to develop with the little ones of your ESOL Group – I have already drawn the adventure playground on which they can practise their special forces?
BD: Hahaha as you have turned the final question to me; I shall explain to the reader first that as BasementArtsProject, I am involved with providing art projects for a group of small children in South Leeds as part of an English as A Foreign Language group for adults. I can confirm at this point that, this week we started developing some superhero characters after the conversation we all had the week before you left. As soon as we have some material, we will start sending you some pictures for the playground and developing a further story. Here's to future collaborations between, not just us, but Leeds and its twin city of Dortmund in whatever form they may take!
SL: Yeah! Let's paint the city!
Bruce Davies from BasementArtsProject in Beeston
in conversation with Silvia Liebig (Beeston – Dortmund via internet and Artist House 45)